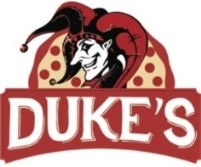 Duke's Pizzeria and Restaurant
ADDRESS : 371 Pittstown Rd., Pittstown, NJ 08867
PHONE NUMBER : 908-730-8515
PLEASE TAKE A MOMENT TO VOTE FOR US!
2016 HUNTERDON HAPPENING LIST
The Happening List is the most happening people's choice contest in the Hunterdon County!
We are so thankful and very excited to be nominated as one of Hunterdon's
TOP PIZZA!
Please take a moment to vote for Duke's Pizzeria & Restaurant! Thank you!