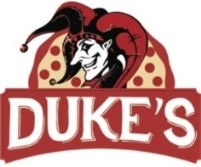 Duke's Pizzeria and Restaurant
ADDRESS : 371 Pittstown Rd., Pittstown, NJ 08867
PHONE NUMBER : 908-730-8515
SPECIALS
Wildcard Weekend Specials
Friday, February 26th through Saturday, February 27th

Soup:
Pasta Fagioli

Chicken Noodle Soup
Appetizer:
Mussels & Calamari Marinara

Fresh Mussels & Fried Calamari served with a Red Marinara sauce and a side of homemade Crostini for dipping.

Entrées:
Crabmeat Stuffed Mahi Mahi

Mahi Mahi filet stuffed with Crabmeat and broiled in our house Lemon Butter sauce. Served with a side of Rice.

Nova Scotia Ravioli

Lobster Ravioli served with fresh PEI Mussels and Diced Tomatoes in a White Wine sauce.

Chicken Breast Rollatini

Chicken Breast stuffed with Mozzarella and Spinach. Drizzled with our homemade Balsamic Reduction and served with a side of Roasted Potatoes and Mixed Vegetables

Dessert:
Toasted Almond Cups with Mascarpone Cheese

Cannoli

Click Here to View A PDF Version of our Weekend Specials
Click Here to Place Your Take-Out Order Online
Click Here to Cast Your Vote on the Hunterdon Happenings List
(VOTING CLOSES MONDAY 2/29)