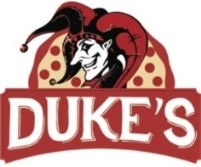 Duke's Pizzeria and Restaurant
ADDRESS : 371 Pittstown Rd., Pittstown, NJ 08867
PHONE NUMBER : 908-730-8515
SPECIALS
Wildcard Weekend Specials
Friday, March 4th through Saturday, March 5th

Soup:
Pasta Fagioli

Chicken Noodle Soup
Sausage Tortellini

Appetizer:
Sweet Chili Calamari
Entrées:
Lenny's Salmon

Salmon Filet w/ Mushrooms, Shrimp and Spinach drizzled with a Pink Cream Sauce. Served w/ Roasted Potatoes and Steamed Broccoli.

Seafood Medley over Linguini

A mixture of Clams, Mussels, Shrimp and Mahi Mahi sauteed in a Plum Red Tomato sauce and served over a bed of Linguini.

Alfredo Primavera w/ Chicken

Penne pasta tossed with diced Chicken Breast, Green Peppers, Onions, Mushrooms, Peas, and Tomatoes in an Alfredo Sauce.

Dessert:
Cannoli

Click Here to View A PDF Version of our Weekend Specials
Click Here to Place Your Take-Out Order Online