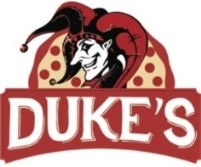 Duke's Pizzeria and Restaurant
ADDRESS : 371 Pittstown Rd., Pittstown, NJ 08867
PHONE NUMBER : 908-730-8515
Easter Sunday Closing
"Easter is the only time of the year when it's perfectly safe to put all your eggs in one basket".
During the Easter Season, we know many of you are refraining from eating meat.... which is a perfect reason to come grab dinner at Duke's. We have many meatless options available, including everyone's favorite Good Friday go-to.... PIZZA!
Please note, Duke's will be closed on Sunday, March 27th in observance of the Easter Holiday and will resume normal business hours on Monday, March 28th.