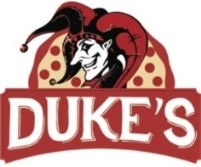 Duke's Pizzeria and Restaurant
ADDRESS : 371 Pittstown Rd., Pittstown, NJ 08867
PHONE NUMBER : 908-730-8515
2nd Anniversary Raffle
This Thursday, April 14th, the Staff at Duke's will celebrate 2 wonderful years in Pittstown! Thank you for continuing to allow us to serve you and your families. It has been an absolute pleasure!

We invite you to share in our celebration by entering our Anniversary Raffle. Stop by and enter for your chance to win one of two gift cards.
Drawing will be held at close of business this Thursday!