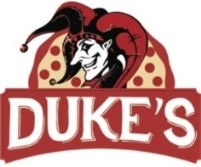 Duke's Pizzeria and Restaurant
ADDRESS : 371 Pittstown Rd., Pittstown, NJ 08867
PHONE NUMBER : 908-730-8515
Specials
Wildcard Weekend Specials
Soup:
Italian Wedding Soup
Appetizer:
Stuffed Portobello Mushroom
Stuffed with Sausage, Sun-Dried Tomato, Parmesan cheese, and Garlic. Topped with Mozzarella cheese and drizzles with Pink Cream sauce.
Entrees:

Maryland Blue Crab Ravioli
Scallops & Shrimp Putanesca
Scallops and Shrimp with Puttanesca sauce, a Tomato based sauce flavored with Garlic, Capers & Olives. Served over Linguini.
Wyatt's Chicken
Sauteed Chicken in a Garlic-White Wine sauce with Spinach, Roasted Red Peppers, Artichoke Hearts & Kalamata Olives over Capellini.
Dessert:

Chocolate Explosion Cheesecake
Cannoli
Click Here to View Our Weekend Specials as a PDF
Click Here to Place Your Take-Out Order Online