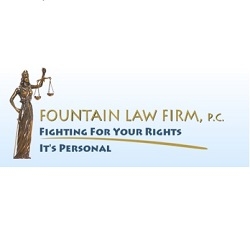 Fountain Law Firm, P.C.
ADDRESS : 10401 N Meridian St , Indianapolis, IN 46290
PHONE NUMBER : 317-917-7873
About Us
The Fountain Law Firm is a personal injury law firm serving seriously injured clients throughout all of central Indiana, including Indianapolis, Carmel, Brownsburg, Lebanon, Columbus, Greenwood, Martinsville, Anderson, Mooresville, Muncie, Lafayette, Bloomington and surrounding areas. The law firm focuses on providing clients with aggressive, personalized representation against insurance companies and their attorneys.
Hours
Monday
9:00 AM to 5:00 PM
Tuesday
9:00 AM to 5:00 PM
Wednesday
9:00 AM to 5:00 PM
Thursday
9:00 AM to 5:00 PM
Friday
9:00 AM to 5:00 PM
Categories
Legal - Legal Services
Legal - Attorneys
Legal - Law Firms
With spring finally here and the temperatures steadily warming, many children in the Indianapol...
Indiana law typically entitles auto accident victims to compensation when the negligence of o...
Walking is one of the healthiest forms of exercise. It can help to reduce str...
It's a fact of modern driving that we share the road with massive semi-trucks,...